Policy NAT (aka Conditional NAT) lets you combine NAT and route-maps so that you can create more specific NAT rules. In a route-map, one of the things you can use is access-lists so you can create NAT rules based on anything you can match in an access-list.
Configuration
To demonstrate this, I'll use the following topology: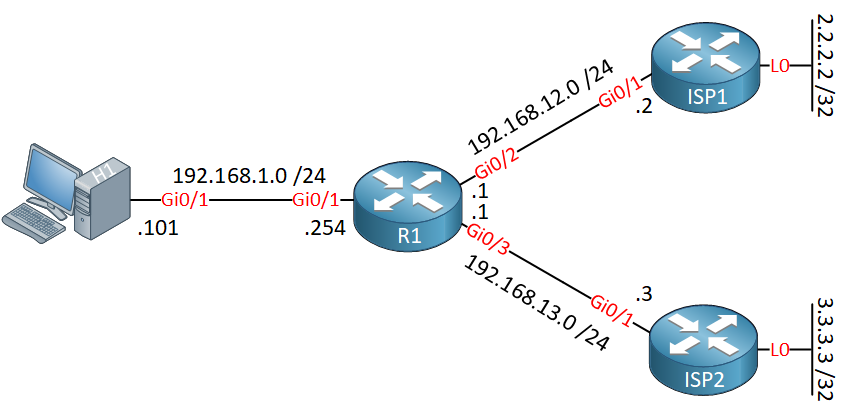 H1 is the host that we'll source our traffic from. R1 is the NAT router that is connected to two ISPs. Each ISP has a loopback interface that represents a telnet server. We are going to create a NAT rule that translates:
192.168.1.101 to 192.168.12.1 when it connects to 2.2.2.2 port 23.
192.168.1.101 to 192.168.13.1 when it connects to 3.3.3.3 port 23.
Configurations
Want to take a look for yourself? Here you will find the startup configuration of each device.
H1
hostname H1
!
no ip routing
!
no ip cef
!
interface GigabitEthernet0/1
 ip address 192.168.1.101 255.255.255.0
!
ip default-gateway 192.168.1.254
!
end
ISP1
hostname ISP1
!
ip cef
!
interface Loopback0
 ip address 2.2.2.2 255.255.255.255
!
interface GigabitEthernet0/1
 ip address 192.168.12.2 255.255.255.0
!
end
ISP2
hostname ISP2
!
ip cef
!
interface Loopback0
 ip address 3.3.3.3 255.255.255.255
!
interface GigabitEthernet0/1
 ip address 192.168.13.3 255.255.255.0
!
end
R1
hostname R1
!
ip cef
!
interface GigabitEthernet0/1
 ip address 192.168.1.254 255.255.255.0
!
interface GigabitEthernet0/2
 ip address 192.168.12.1 255.255.255.0
!
interface GigabitEthernet0/3
 ip address 192.168.13.1 255.255.255.0
!
ip route 2.2.2.2 255.255.255.255 192.168.12.2
ip route 3.3.3.3 255.255.255.255 192.168.13.3
!
end
Let's get started. First, I need to configure the correct NAT inside and outside interfaces:
R1(config)#interface GigabitEthernet 0/1
R1(config)#ip nat inside

R1(config)#interface GigabitEthernet 0/2
R1(config-if)#ip nat outside

R1(config)#interface GigabitEthernet 0/3
R1(config-if)#ip nat outside
I'll create two access-lists that match the traffic that I want to translate with NAT:
R1(config)#ip access-list extended ISP1_L0
R1(config-ext-nacl)#permit tcp host 192.168.1.101 host 2.2.2.2 eq 23

R1(config)#ip access-list extended ISP2_L0
R1(config-ext-nacl)#permit tcp host 192.168.1.101 host 3.3.3.3 eq 23
Now I'll create a route-map and attach the access-lists in two different permit statements: