Sometimes it might be useful to block certain traffic on specific days or during business hours. For example, maybe you want to block all facebook traffic from monday to friday between 9:00 – 17:00.
We can achieve this by using time ranges in our access-lists. When you use these, the statement in the access-list will only be active during the time range that you specified. Let's take a look at an example!
Configuration
To demonstrate the time based access-list I will use the following topology: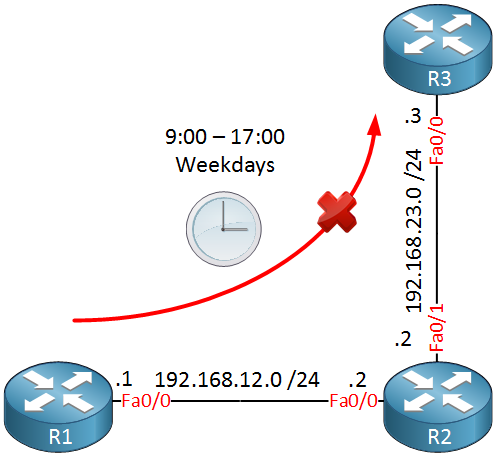 Above we have three routers, imagine that R1 is a user on a computer and R3 is some webserver. We want to prevent access from R1 to the webserver on R3 on business days between 9:00 – 17:00. We will configure the time based access-list on R2.
The time range command relies on the clock so make sure the time and date is correct:
R2#clock set 12:48:00 14 July 2015
Normally it would be better to use NTP but for this example I'll configure it manually. Now we can configure a time range:
R2(config)#time-range WORK_HOURS
R2(config-time-range)#periodic ?    
  Friday     Friday
  Monday     Monday
  Saturday   Saturday
  Sunday     Sunday
  Thursday   Thursday
  Tuesday    Tuesday
  Wednesday  Wednesday
  daily      Every day of the week
  weekdays   Monday thru Friday
  weekend    Saturday and Sunday
There are quite some options, we can select a specific day or you can use some ranges like weekdays, weekend, etc. Let's go for the weekdays:
R2(config-time-range)#periodic weekdays 09:00 to 17:00
We now have a time range called "WORK_HOURS" for business hours. Let's create an access-list:
R2(config)#ip access-list extended NO_FACEBOOK
R2(config-ext-nacl)#deny tcp any host 192.168.23.3 eq 80 time-range WORK_HOURS
R2(config-ext-nacl)#permit ip any any
The access-list above has a statement that blocks traffic to TCP port 80 on 192.168.23.3 but only for the time range that we specified. Let's activate it on the interface:
R2(config)#interface FastEthernet 0/0
R2(config-if)#ip access-group NO_FACEBOOK in
Now we can try to connect to R3 from R1:
R1#telnet 192.168.23.3 80


Trying 192.168.23.3, 80

 ... 
% 

Destination unreachable

; gateway or host down
We can't connect to the webserver on R3. Is this because of our time range? Let's find out: