Any Transport over MPLS (AToM) will transport layer 2 frames over a MPLS (Multiprotocol Label Switching) network. This will allow service providers to connect layer 2 networks of customers transparently by using their MPLS backbone. AToM can transport the following:
ATM AAL5
ATM Cell Relay
Ethernet
Frame Relay
PPP
HDLC
I will give you an example how to configure AToM to transport Ethernet over the MPLS backbone, we will use the following topology to do this: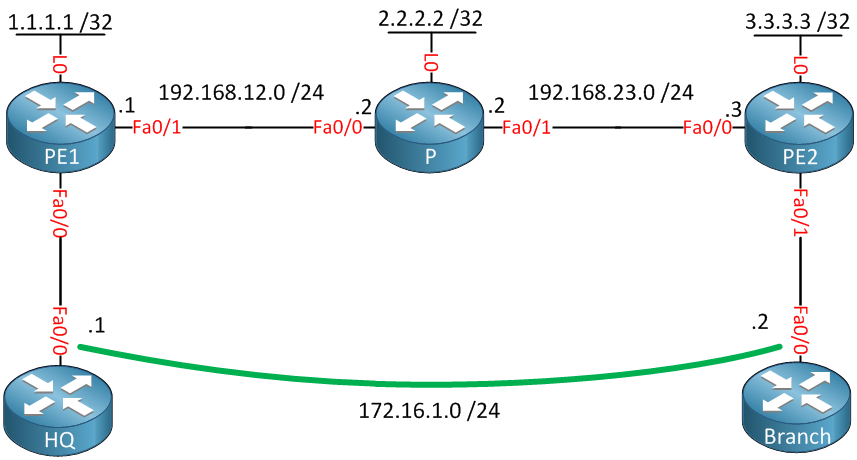 Above you see a small MPLS backbone that consists of the PE1, P and PE2 router. This ISP only has one customer that has a HQ and Branch. The customer wants to have the HQ and Branch router to be in the same layer 2 segment.
Configuration
First we will enable OSPF to advertise the loopback interfaces, these will be used as the router ID for MPLS LDP:
PE1(config)#router ospf 1
PE1(config-router)#network 192.168.12.0 0.0.0.255 area 0
PE1(config-router)#network 1.1.1.1 0.0.0.0 area 0
P(config)#router ospf 1
P(config-router)#network 192.168.12.0 0.0.0.255 area 0
P(config-router)#network 192.168.23.0 0.0.0.255 area 0
P(config-router)#network 2.2.2.2 0.0.0.0 area 0
PE2(config)#router ospf 1
PE2(config-router)#network 192.168.23.0 0.0.0.255 area 0
PE2(config-router)#network 3.3.3.3 0.0.0.0 area 0
Now we will enable MPLS LDP on the interfaces connecting the PE1, P and PE2 routers:
PE1(config)#interface fastEthernet 0/1
PE1(config-if)#mpls ip
P(config)#interface fastEthernet 0/0
P(config-if)#mpls ip

P(config)#interface fastEthernet 0/1
P(config-if)#mpls ip 
PE2(config)#interface fastEthernet 0/0
PE2(config-if)#mpls ip
Just to be sure let's verify that we have LDP neighbors:
P#show mpls ldp neighbor | include Peer
    

Peer LDP Ident: 1.1.1.1

:0; Local LDP Ident 2.2.2.2:0
    

Peer LDP Ident: 3.3.3.3

:0; Local LDP Ident 2.2.2.2:0
That seems to be the case! Now we can configure AToM so that the HQ and Branch router are able to reach each other: