Software Defined WAN (SD-WAN) is hot nowadays. Why?
Private WAN connections like MPLS are reliable but also expensive. WAN connections are usually a big chunk of the IT budget, so it's understandable that organizations are interested in replacing their private WAN connections with regular Internet connections to reduce costs.





To understand SD-WAN, we first have to talk about some "problems" with traditional WAN connections. We can choose between private WAN connections or public Internet connections. Let's compare these two options:
Cost: private WAN connections like MPLS are way more expensive than regular Internet connections.
Time to deploy: it takes longer to deploy a private WAN connection than a regular Internet connection.
SLA: Service providers offer SLAs for private WAN connections that we don't have for regular Internet connections. There are providers who offer SLAs for "business" class Internet connections, but these are usually way more expensive than regular (consumer) Internet connections.
Packet loss: Internet connections have a higher packet loss rate compared to private WAN connections like MPLS.
QoS: Internet connections don't offer any QoS. You can prioritize your outgoing traffic but that's it, the Internet itself is like the wild west. Private WAN connections often support end-to-end QoS.
The way we use our WAN has also changed throughout the years. Most organizations had an HQ, remote users, and perhaps some branch offices. Branch offices were connected to the HQ with private WAN or VPNs over the Internet. Remote users used remote VPN over the Internet to connect.
Nowadays, organizations also run their own applications in the cloud instead of on-premises, and they use applications like Office 365 or Gsuite. Our traffic patterns look different now: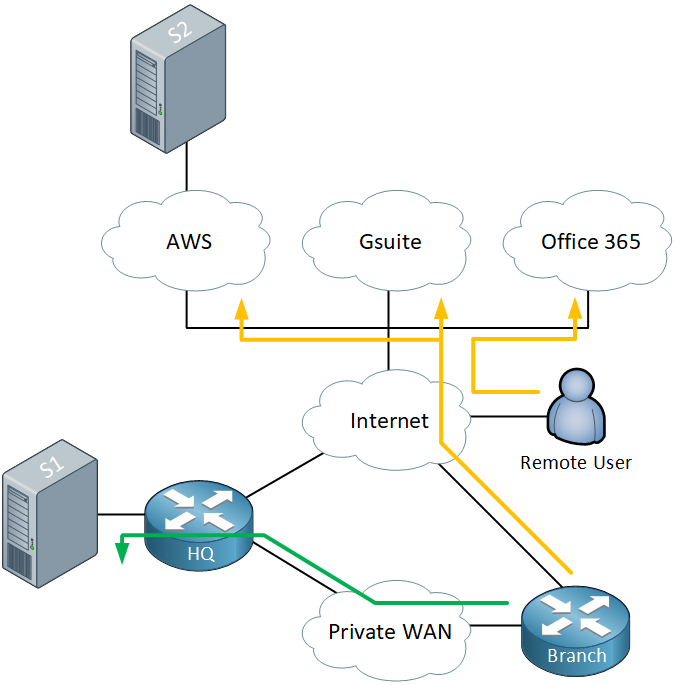 What about network management? Each router has its own control plane, and we use the CLI to manually create our router configurations "box-by-box". This is time-consuming and prone to errors. We can use network automation tools to make our lives easier, but the control plane remains decentralized.
SD-WAN promises to save money by using a combination of Internet and private WAN connections and make network management much easier.
One problem with SD-WAN is that each vendor has a different idea about what SD-WAN is. I'll give you a basic overview of what SD-WAN is about. An SD-WAN solution has parts of the control plane centralized and is built with network automation and orchestration in mind. We create network policies globally and push them to all routers from a central location. You could create a QoS policy and push it to all your 500 branch routers with a single mouse click. We don't use the CLI anymore. Instead, we have a GUI and use APIs to configure and manage our WAN connections. Some vendors still support a CLI if you want to do some troubleshooting.