DMVPN supports three different versions called "phases". In my first DMVPN lesson I explained the basics and  the DMVPN phase 2 configuration and DMVPN phase 1 configuration lessons explain how to configure the first two phases.
This time, I'll show you how to configure DMVPN phase 3. We'll use the following topology for this: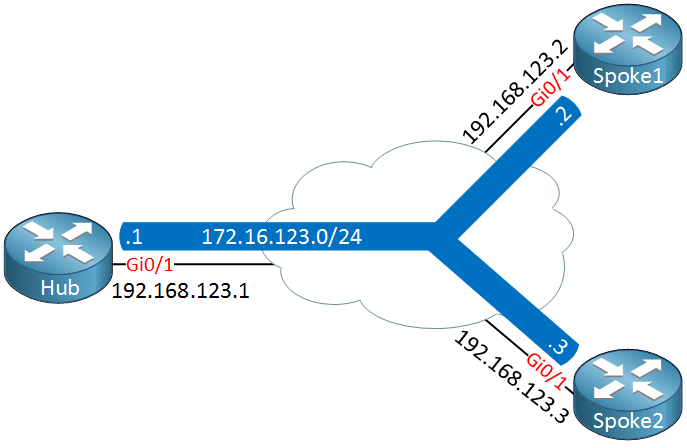 We have one hub router and two spoke routers.
Configuration



The configuration of DMVPN phase 3 and 2 is very similar. Let's start with the following DMVPN phase 2 configuration on all routers:
Hub(config)#interface Tunnel0
Hub(config-if)#ip address 172.16.123.1 255.255.255.0
Hub(config-if)#ip nhrp authentication DMVPN
Hub(config-if)#ip nhrp map multicast dynamic
Hub(config-if)#ip nhrp network-id 1
Hub(config-if)#tunnel source GigabitEthernet0/1
Hub(config-if)#tunnel mode gre multipoint

Spoke1(config)#interface Tunnel0
Spoke1(config-if)#ip address 172.16.123.2 255.255.255.0
Spoke1(config-if)#ip nhrp authentication DMVPN
Spoke1(config-if)#ip nhrp map 172.16.123.1 192.168.123.1
Spoke1(config-if)#ip nhrp map multicast 192.168.123.1
Spoke1(config-if)#ip nhrp network-id 1
Spoke1(config-if)#ip nhrp nhs 172.16.123.1
Spoke1(config-if)#tunnel source GigabitEthernet0/1
Spoke1(config-if)#tunnel mode gre multipoint
Spoke2(config)#interface Tunnel0
Spoke2(config-if)#ip address 172.16.123.3 255.255.255.0
Spoke2(config-if)#ip nhrp authentication DMVPN
Spoke2(config-if)#ip nhrp map 172.16.123.1 192.168.123.1
Spoke2(config-if)#ip nhrp map multicast 192.168.123.1
Spoke2(config-if)#ip nhrp network-id 1
Spoke2(config-if)#ip nhrp nhs 172.16.123.1
Spoke2(config-if)#tunnel source GigabitEthernet0/1
Spoke2(config-if)#tunnel mode gre multipoint
To migrate from DMVPN phase 2 to 3, we only need two commands…here's the first command:
Hub(config)#interface tunnel 0
Hub(config-if)#ip nhrp redirect 
The NHRP redirect command on the hub will inform spoke routers that they can reach another spoke router directly. The second command is needed on the spoke routers: