Before you can tackle the CCIE R&S lab there is a lot of information you have to absorb and one way or another you'll have quite some reading to do. Some of the CCIE R&S reading lists might have 10 – 20 books but I believe you don't have to read that many.
In this lesson you'll find the books that I think you should read because they will truly help you understand all the topics you need to know for the lab.
Let's get started!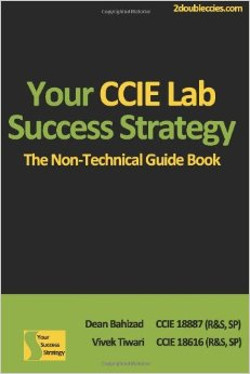 Studying for the CCIE R&S lab is difficult, time-consuming and sometimes a personal struggle. This isn't CCNA or CCNP where you can read 1 or 2 books, do some labs and pass the exam. It will take a LOT of your personal time to study so you need a battle plan.
Your CCIE Lab Success Strategy, The Non-Technical Guide Book helps with everything non-technical that is related to your CCIE journey. It gives you examples to create a study schedule, timetables but also lets you think about how to organize your personal life while you study for the lab. The book has plenty of useful tips and it is also very inspiring to read the story of others who already finished their CCIE journey.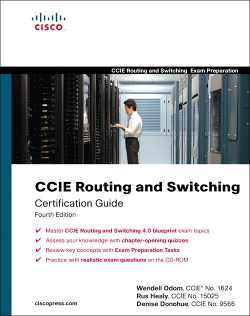 Before you even think about the lab exam you need to get the CCIE written exam out of the way.  Without it, you can't even book the lab so make sure you pass the written exam so you can focus on your real goal, the lab.
If you passed the CCNP exams then there are a couple of topics that you haven't seen before like QoS and Multicast. The CCIE Routing and Switching Certification Guide covers all the exam blueprints so use it to study and pass the written exam.
This is the fourth edition but the fifth edition is right around the corner.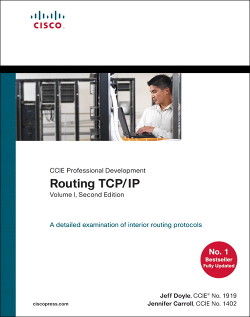 Routing TCP/IP Volume 1 is one of the classics on many CCIE R&S reading lists. I really enjoy Jeff Doyle's writing style because he has a lot of configuration examples and explanations for show commands. This book covers routing in general but also RIP, OSPF, EIGRP and IS-IS.
You don't have to know about RIP / IS-IS anymore for CCIE R&S but the sections on OSPF and EIGRP are still great to read. There is also a chapter about IPv6 but I think this might be a bit outdated by now (the book was written in 2005).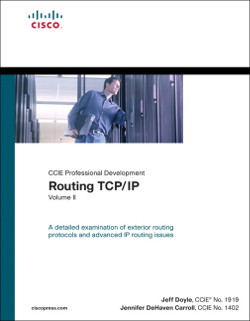 The second book by Jeff Doyle called Routing TCP/IP Volume 2 is also great to read. This book covers BGP, NAT and Multicast. If you just did CCNP then multicast is probably new to you. This book will help you get started to learn multicast. There is also a chapter about IPv6 but I would recommend to read another book for that (don't worry it's in this reading list).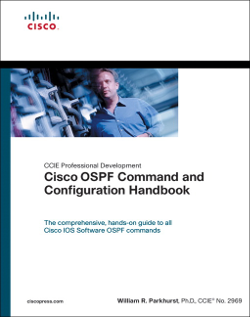 Simply said, the Cisco OSPF Command and Configuration Handbook is probably the best book on CCIE level that explains everything you need to know about OSPF. It's a big book (845 pages) so it teaches you a lot more about OSPF than the two routing TCP/IP books from Jeff Doyle or the Cisco Press Certification Guide. '
OSPF is an important topic on the lab so it's worth your time to read this beast.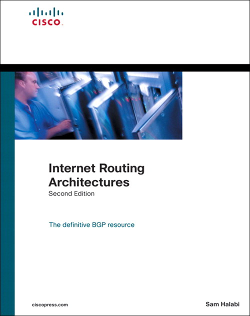 This is another book I really enjoyed to read. Sam Halabi's Internet Routing Architectures (Second Edition) is all about BGP. Simply said, everything you need to know about BGP is in this book. It has great explanations, scenarios and configuration examples.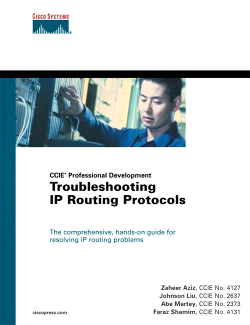 This book is something different compared to the other CCIE R&S books. Troubleshooting IP Routing Protocols explains what can go wrong with protocols like EIGRP, OSPF, PIM (Multicast) and BGP and then explains how to solve it.
For example, for EIGRP it will first show all the reasons why EIGRP doesn't establish a neighbor adjacency and once that is fixed, it will show different reasons why some prefixes are not showing up in the topology or routing table.
Great to read to become better at troubleshooting!
If you read the CCIE Routing & Switching Certification guide and the Routing TCP/IP volume 2 book you already learned a thing or two about multicast. Developing IP Multicast Networks takes your multicast knowledge all the way up to CCIE R&S level.
It explains PIM sparse, dense and sparse-dense mode in depth but also inter-domain multicast routing. It's not a very thick book (562 pages) and some of the chapters that cover DVMRP (Distance Vector Multicast Routing Protocol) you can skip because it's not on the CCIE R&S blueprint.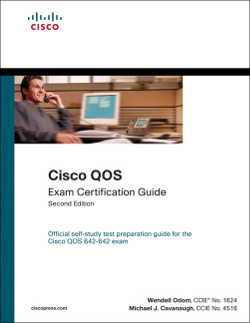 QoS (Quality of Service) is a difficult topic to master and there's a ton of stuff you need to understand for CCIE R&S. Originally, the Cisco Qos Exam Certification Guide by Wendell Odom was written for the old CCIP track (it was replaced by CCNP Service Provider) which had a QoS exam.
This book explains all the QoS mechanisms in detail and still covers everything you should know for the lab.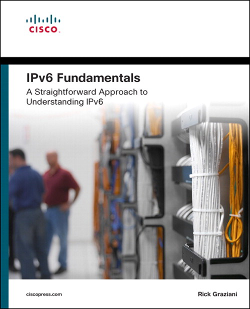 IPv6 Fundamentals, A Straightforward Approach to Understanding IPv6 is a good book because it covers things like IPv6 addressing and the routing protocols you need to know for the lab…RIPng, EIGRP, OSPFv3 and some of the tunneling techniques likes ISATAP and 6to4.
Cisco added a lot of IPv6 in the routing & switching track since the latest revision (march 2013) of CCNA. If you haven't really caught up with IPv6, make sure you read this book.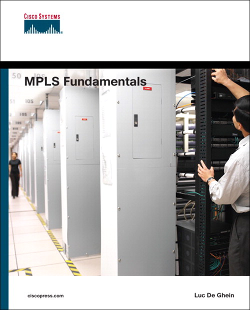 MPLS Fundamentals teaches you a lot more than what you need to know for the CCIE R&S lab. It's not just the "fundamentals" but this book takes you to an advanced level of MPLS.
You will learn a lot about MPLS from this book, perhaps even more than what you are required to know for the CCIE R&S lab exam.
That's the end of my reading list. There are plenty of books but I believe these are really worth your time! Keep in mind that only reading isn't going to get you any closer to beating the lab. Make sure you configure many of the things that you read in these books yourself so you get familiar with the commands and configurations.
You might have noticed that I don't have any switching books in this list. I would like to add one, but to be honest I can't really name a book that is worth adding. Cisco Press has a book called Cisco LAN Switching but it's really outdated (still has CatOS commands) and the newer version of it isn't complete enough for CCIE R&S.
Version 5 of the CCIE lab is also completely virtual so there's no point learning "platform specific" topics like we had to do in version 4 with the Cisco Catalyst 3560 switches.
I hope this list is useful to you. Feel free to share it with your friends. If you feel I should add or remove any of the books…please share it in our forum.