Any Transport over MPLS (AToM) will transport layer 2 frames over an MPLS (Multiprotocol Label Switching) network. This will allow service providers to connect layer 2 networks of customers transparently by using their MPLS backbone. AToM can transport the following:
ATM AAL5
ATM Cell Relay
Ethernet
Frame Relay
PPP
HDLC
I will give you an example of how to configure AToM to transport Ethernet over the MPLS backbone. We will use the following topology to do this: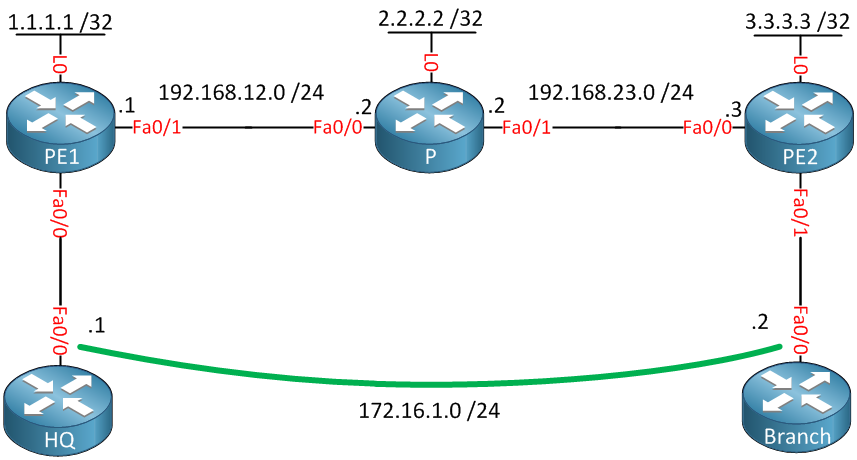 Above, you see a small MPLS backbone that consists of the PE1, P, and PE2 routers. This ISP only has one customer that has an HQ and Branch. The customer wants to have the HQ and Branch router to be in the same layer 2 segment.
Configuration
First, we will enable OSPF to advertise the loopback interfaces. These will be used as the router ID for MPLS LDP:
PE1(config)#router ospf 1
PE1(config-router)#network 192.168.12.0 0.0.0.255 area 0
PE1(config-router)#network 1.1.1.1 0.0.0.0 area 0
P(config)#router ospf 1
P(config-router)#network 192.168.12.0 0.0.0.255 area 0
P(config-router)#network 192.168.23.0 0.0.0.255 area 0
P(config-router)#network 2.2.2.2 0.0.0.0 area 0
PE2(config)#router ospf 1
PE2(config-router)#network 192.168.23.0 0.0.0.255 area 0
PE2(config-router)#network 3.3.3.3 0.0.0.0 area 0
Now we will enable MPLS LDP on the interfaces connecting the PE1, P, and PE2 routers:
PE1(config)#interface fastEthernet 0/1
PE1(config-if)#mpls ip
P(config)#interface fastEthernet 0/0
P(config-if)#mpls ip

P(config)#interface fastEthernet 0/1
P(config-if)#mpls ip 
PE2(config)#interface fastEthernet 0/0
PE2(config-if)#mpls ip
Just to be sure let's verify that we have LDP neighbors:
P#show mpls ldp neighbor | include Peer
    

Peer LDP Ident: 1.1.1.1

:0; Local LDP Ident 2.2.2.2:0
    

Peer LDP Ident: 3.3.3.3

:0; Local LDP Ident 2.2.2.2:0
That seems to be the case! Now we can configure AToM so that the HQ and Branch routers are able to reach each other: