In this lesson we'll take a look how you can create IPv6 prefixes and subnets so that you can configure your entire network with IPv6. We'll start at the top where IANA (Internet Assigned Numbers Authority) is responsible for the global coordination of the IPv4 and IPv6 address space and move our way all the way to the bottom where we assign subnets and IPv6 addresses to our routers, switches and VLANs.
IPv6 Global Unicast Prefix Assignments
IANA "owns" the entire IPv6 address space and they assign certain prefixes to the RIRs (Regional Internet Registry). There are 5 RIRs at the moment: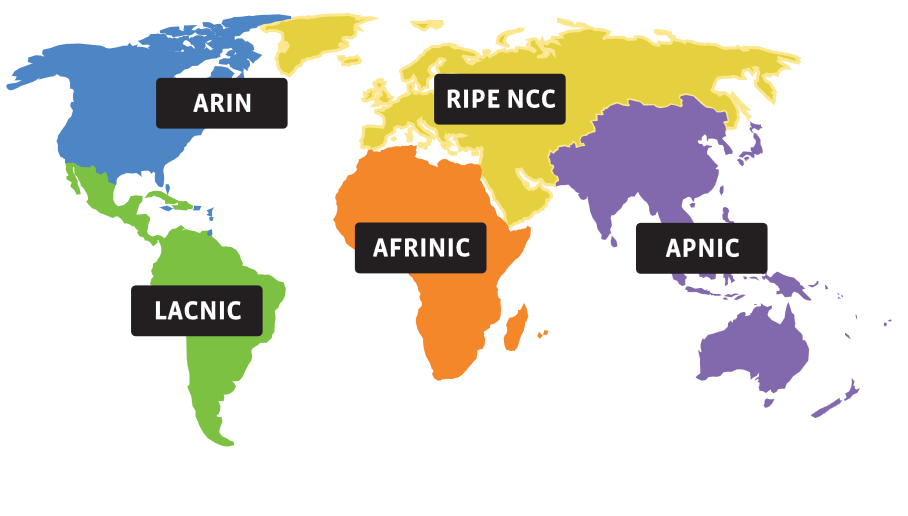 If you are interested, click here for an overview of all IPv6 prefix assignments by IANA.
When a large ISP (or large company) in North America wants IPv6 addresses then they will contact ARIN who will assign them an IPv6 prefix if they meet all requirements. The ISP can then assign prefixes to their customers.
Let's take a look at some actual prefixes: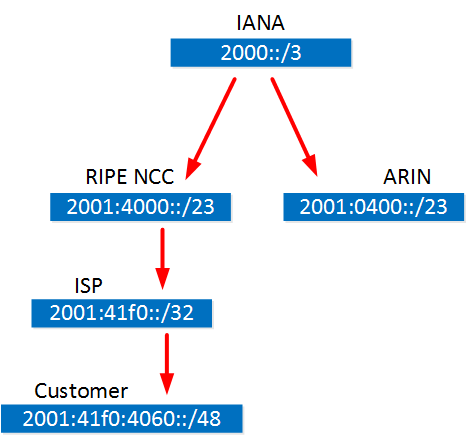 IANA is using the 2000::/3 prefix for global unicast address space.
According to this list, RIPE NCC received prefix 2001:4000::/23 from IANA.
A large ISP called Ziggo in The Netherlands receives prefix 2001:41f0::/32 from RIPE NCC.
The ISP assigns prefix 2001:41f0:4060::/48 to one of their customers.
Now it's up to the customer what they want to do with their IPv6 prefix…
IPv6 Global Unicast Subnet Assignments
Our customer received prefix 2001:41f0:4060::/48 and they want to use it to configure IPv6 on their entire network. Where do we start? Take a look at the image below:
The 48-bit prefix that we received is typically called the global routing prefix or site prefix. The interface ID is normally 64 bit which means we have 16 bits left to create subnets.
If I want I can steal some more bits from the Interface ID to create even more subnets but there's no need for this. Using 16 bits we can create 65.536 subnets …more than enough for most of us. Let's see what we can do for our customer: