Frame-relay is one of the WAN protocols you need to understand if you plan to become CCNA certified. It's also one of the most difficult protocols to understand for most CCNA students. In this lesson I'll explain to you why we use(d) frame-relay and how it works.





Before we start looking at frame relay let me tell you a little story. We have a network with four sites: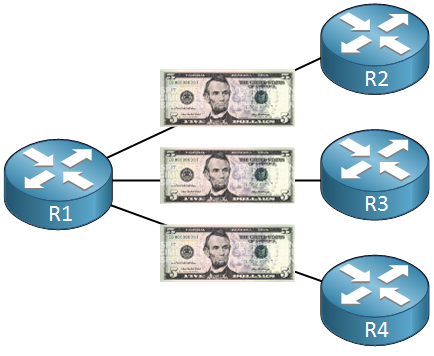 There's R1, R2, R3 and R4. Since we want connectivity between the sites we have an ISP who sold us three leased lines:
Between R1 and R2.
Between R1 and R3.
Between R1 and R4.
Using leased lines is awesome! You are the only person using these lines since you are paying for them. This means high quality and probably a low chance of congestion (if you have fast links). It's also pretty secure since it's only your traffic that's flowing through these lines.
There are also a few downsides to using leased lines however:
You are the only one using these lines so you gotta pay for them, being exclusive is fun but expensive.
On R1 you'll need three interfaces for each leased line, more interfaces means more money.
What happens if you are going to move the site R1? It's not always possible to move the leased lines with you.
What if the R1 crashes? R2, R3 and R4 will be isolated as well.

This is a picture of frame relay and it works a bit different. The idea behind frame relay is that you have a single infrastructure from the service provider and multiple customers are connected to it, effectively sharing everything.
In the middle you see a cloud with an icon you probably haven't seen before. This icon is the frame relay switch. The cloud is called the frame relay cloud and the reason it has this name is because for us as customer it's unknown what happens in the frame relay cloud. This is the service provider's infrastructure and we really don't care what happens there…we are the customer and all we want is connectivity!
What else do you see? There are two customers (1 and 2) and each of them has a Headquarters (Hub) and a branch office (Spoke).
One more picture, here's a frame relay network with three routers from one company:

There's a router at the headquarters (Hub) and we have two branch offices (Spoke1 and Spoke2). All of them are connected to the frame relay cloud.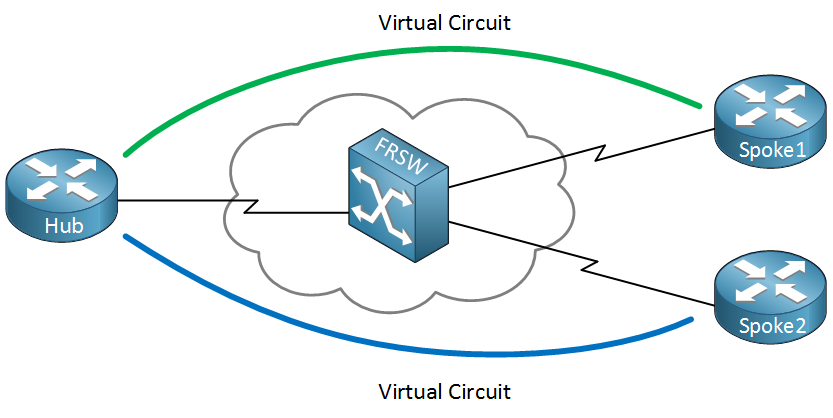 We call our service provider since we want connectivity and the first question they'll ask us is which sites should be connected?. In the example above you can see two virtual circuits, the green and blue one. With frame relay there's a difference between the physical and logical connections. The physical connection is just the serial cable which is connected to the provider. Our logical links are virtual circuits. As you can see there is a virtual circuit from Spoke1 to the Hub and another one from Spoke2 to the Hub.
This means that we can send traffic through our virtual circuits between:
Spoke1 and Hub.
Spoke2 and Hub.
There is no virtual circuit between Spoke1 and Spoke2. Does this mean there is no connectivity between them? No you can still have connectivity between them by sending data to the Hub! Of course you can get another virtual circuit between Spoke1 and Spoke2 but you'll have to pay for it. Virtual circuits are also called PVC (Permanent Virtual Circuit).
You also pay for a certain speed called the CIR (Committed Information Rate). The cool thing about frame relay is that when no other customers are using the frame relay network it's possible you get a higher speed than what you paid for…the CIR however is a speed that is guaranteed.
How do we know if a PVC is working or not?

Frame-relay uses something called LMI which stands for Local Management Interface. LMI has two functions: